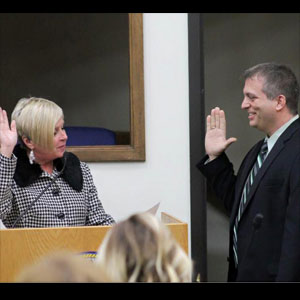 Tuminello sworn in as Will County Board
Ray Tuminello, of New Lenox, was sworn in as a member of the Will County Board by Clerk Nancy Schultz Voots at Thursday's meeting. | By: Susan DeMar Lafferty
Updated: December 23, 2014 10:51AM
Ray Tuminello said he plans to "hit the ground running" after being sworn in Thursday as a member of the Will County Board.
Tuminello, who recently resigned as a New Lenox village trustee, fills a vacancy in District 12 left by Margo McDermed, a Mokena Republican, who was elected as a state representative in November.
"I am really excited. For me, this is a new chapter," Tuminello said as he was congratulated by family, friends and colleagues after the meeting. He will serve on the county's finance and capital improvements committees.
Board member Tom Weigel, R-New Lenox, who also represents District 12, welcomed Tuminello.
"I am sure he will do a great job for us," he said.
Weigel also served on the New Lenox Village Board before joining the county board.
"I need you on this side, not that side," Democratic Caucus Chair Herb Brooks, D-Joliet, said jokingly as he welcomed Tuminello.
Tuminello, 44, is a Republican precinct committeeman in New Lenox Township and owner of Quality Glass Block and Window in Morris. He was a New Lenox trustee for 10 years.
District 12 includes New Lenox and Mokena and a small portion of Orland Park that includes Smith Crossing, a retirement community near 183rd Street and Wolf Road.